Songwriters Of New York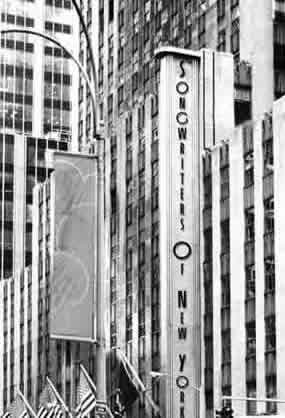 Hi, welcome to Songwriters Of New York. We are a group of 24 young song writers who are posting our lyrics on the net for you and anyone else who finds them to use.
On this site you will find hundreds of brand new song lyrics. None of them have been used before. The site is intended to be used by musicians, arrangers and composers as the first resource of its kind in the world. Use our song words with your music.
Who are we? We are all aged between 18 and 24 and, as the title suggests, live in New York. By presenting sites like this with hundreds of brand new songs we felt that we would get a much bigger audience than if we posted our works on an individual basis.
We act as a sort of co-operative. Every month or so we get together to share what we have been doing. Any money which is raised from this site will be shared equally between the members.
Let us say at the start that you pay absolutely nothing to use any of our songs until the songs earn you some royalties. At that point we, as lyricists, take 30% of the gross royalties. That is, you keep 70% of everything that the song earns.
The writers are listed here in no particular order. Some of them are using names which are not their own. Please remember that we all live and work here and sometimes it would be difficult for people that we work with to know exactly what we are doing!
Good luck! Enjoy your journey through all 24 of our members work. Don't just dip in and think that you have an idea of what the site is all about. Every writer is very different. Some are soft and some are very hard edged.
Terms and Conditions
By using any song lyric or part of a song lyric which we publish, songwritersofnewyork.com, becomes entitled to received 30% of the total royalties as holders of the copyrights of the lyrics.
The user of the lyrics is deemed to understand and accept this agreement as legally binding and to make arrangements for all monies to be rendered to songwritersofnewyork.com.
Copyright
All songs are copyright protected. The rights of each individual named as author of these works is asserted by him or her in accordance with the Copyright Design and Patient Act 1988.
All rights are reserved. No part of any lyric published may be reproduced, stored or transmitted by any means without the full and unreserved acceptance of the terms contained herein.